"Sayama gift certificate with premium" is also available in our company.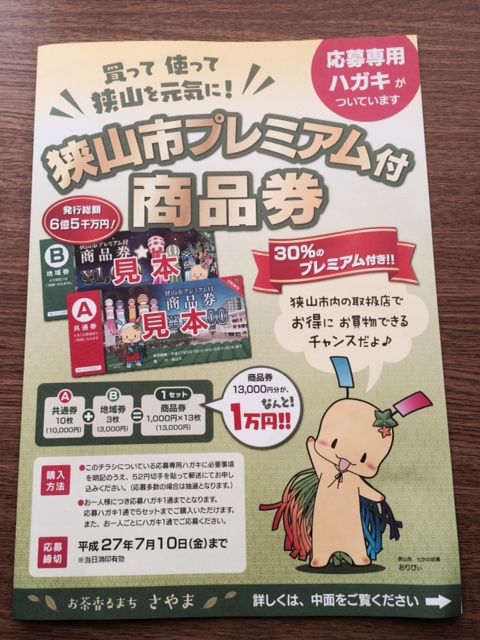 Sayama expansion of personal stimulate consumption and local consumption in the City, will launch the "Sayama with premium gift certificates" for the activation of the regional economy.
This is a subject people are working living-in Sayama city.
This premium gift certificate
Gift certificates with a premium, this year the country's supplementary budget to the original, has been nationwide.
In Saitama Prefecture, a subsidy for the purpose of local commercial activation "plus". Becomes a carry be carried out in municipalities in the prefecture, tow now be carried out even in Sayama.
It can be purchased at one set 10,000 yen.
The gift certificates purchased at 10,000 yen, gift certificate of 1,000 yen face value has been spelled 13 sheets. In other words, even 13,000 yen <3 percent at 10,000 yen! > It becomes Desc.
How to purchase this gift certificate, use method
It can be purchased up to one person five sets (50,000 yen).
Expiration date of the gift certificate, will be from September 1, 2015 until December 31, 2015.
It is available at the registered office (shops).
More information, including how to purchase a gift certificate, please refer to the brochure
Brochure inserts in the "public relations Sayama issue June 10, 2015". Newspaper on June 27 fold, also, it has been placed, such as the city hall.
"Common ticket" is available in all the registered shops. "Regional ticket" is not available in large stores.
Change does not come out.
Questions, please contact the following.
Sayama Chamber of Commerce and Industry 04-2954-3333
Sayama city hall commerce and industry Promotion Division 04-2953-1111 (ext. 2551, 2552)
Flow of up to purchase
Distribution of brochures (with lottery application postcard)
The fold in the "public relations Sayama issue June 10, 2015"
Newspaper inserts (June 27, 2015)
And posting the lottery applicants postcard until July 10
One per person is a postcard. Please get in, such as city hall in case of shortage. (Where to get a list)
Download it here (surface, back)
July 10, 2015 (gold) day postmark
Lack of postage, such as the omission is disabled. Please check the notes of the brochure.
Public lottery
Dispatch of gift certificates purchase vouchers (no later than August 10)
We will exchange purchase gift certificates with premium (~ August 18).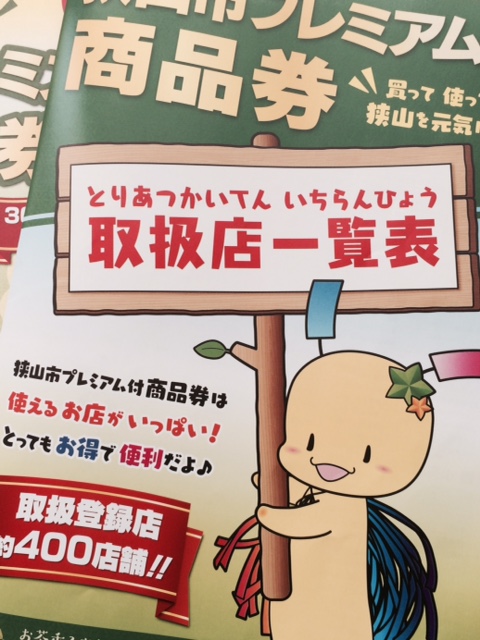 Of course we will have to handle in our company.
Mean that handling from September 1, "Senior Citizen's Day" and "autumn equinoctial week", "gifts", "your New Year" "homecoming souvenir", available in Sayama tea and tea-related products.
List gift certificate handling establishments (June 10 current 405 stores. Updated from time to time)