We look forward to your visit of everyone.
We will be happy to help as a participant stores of the two events than today.
We look forward to your visit of everyone.
It should be noted that on Wednesday 10 November, so we have become a regular holiday, thank you very much.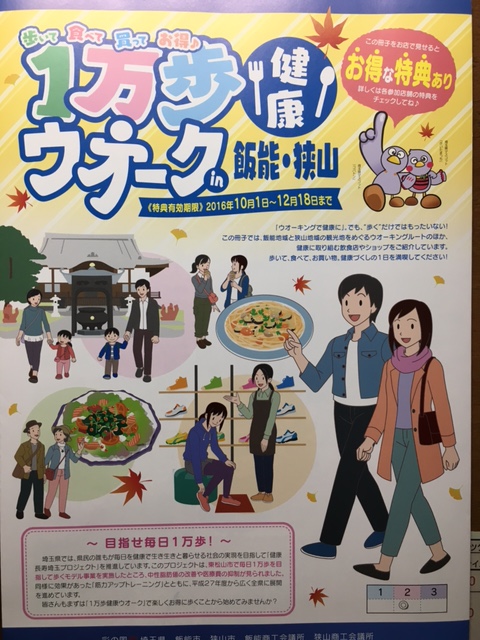 In Saitama prefecture, health in order to connect the growing interest in walking to the promotion of health services that tackle shops of the region, according to the tourist season of about three months from October "10,000 steps health Walk" the Hanno-Sayama region in will be conducted. The after around the course, there is also a nice prize hits questionnaire by lottery.
This is while travels through a tourist destination, enjoy a meal and shopping in the eateries and shops to provide healthy products and services, on one hand the "deals booklet with benefits", walking, eating, shopping ! Thing that will Itadako to enjoy a day of health Dzukushi.
Walking courses and store information, brochure was posted, such as tourist destination is distributed at the following locations.
Booklet distribution rack location
Hanno city: Hanno Station tourist office "Pratt Hanno", Citizens Activity Center (Higashi-Hannō Station Building 7th floor), Hanno City Hall, Hanno Chamber of Commerce and Industry
Sayama city: Sayama City Museum, Sayama City Hall, Sayama Chamber of Commerce and Industry
Seibu Railway station: Tokorozawa Station, Iriso Station, Sayama Station, Shin Sayama Station, Sayamagaoka Station, Musashi Fujisawa Station, Iruma-shi Station, Hanno Station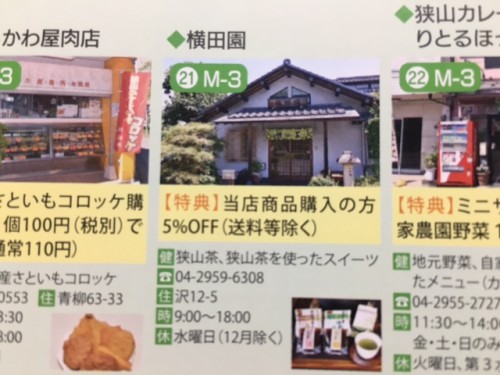 Speaking of Sayama, it is counted as one of Japan's three major tea "Sayama tea". There is a strong heavy flavor and rich sweetness.
In Sayama course, you can also purchase products that use the Sayama tea and Sayama tea.
Also Sayama is your local gourmet "taro croquette" that uses a taro, which boasts the nation's leading production volume can also be enjoyed.

10/31, knew "of the Japanese tea Day" as well as a Halloween?
This might actually be the fate.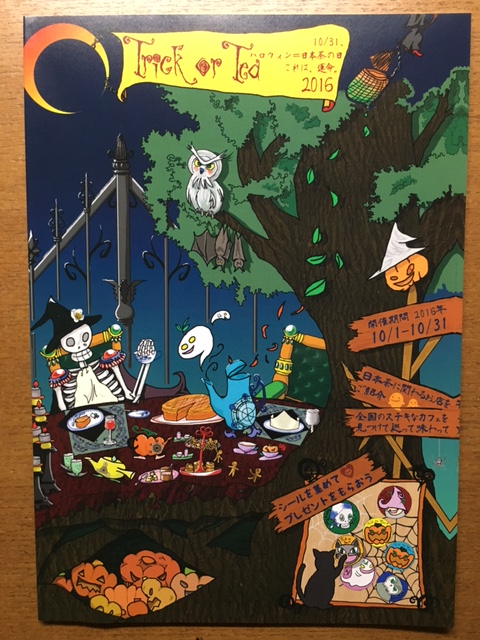 Halloween is a festival of the New Year's Eve of the old Celtic.
The day of the Japanese tea, Eisai day Zen master has us deliver the kind of tea from China.
Both, the day the beginning of today's culture. Important beginning.
Although the timing of new tea of ​​May Speaking of tea will climax most, in fact, you know that the tea was past the summer comes out depth to the taste?
New tea missing smell has the unique lush, you will feel calm sweetness.
Dare with the aroma is by tea house, you finish your tea you would want to drink slowly.
I want you to also put tea in your drink of choice.
The opportunity is good if Hirogare at Halloween.
National Japanese tea shop and cafe who have agreed to the thoughts, have gathered in this Trick or Tea.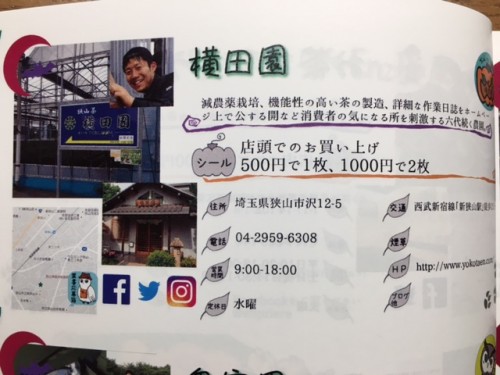 You will receive the gift of omission related to the tea and apply to collect this seal.
I met new shop while excited about Halloween, while enjoy the bliss to taste the tea is professional brew, into the hand until the gifts and yet want to try myself at home.
It is an event where you can enjoy the hilt such a tea.
The long autumn nights, season the Japanese tea is delicious.
Look! Would not it if wants to make candy?
Halloween, if not Nedara the tea!