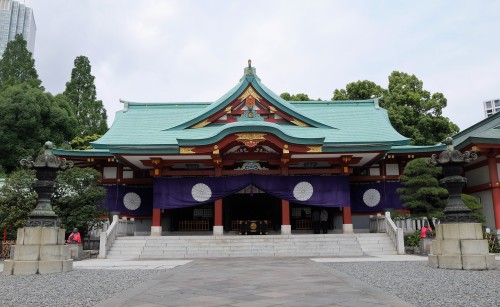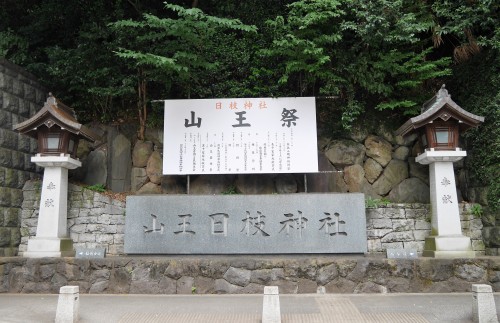 I went for "Sanno festival" held in Akasaka Hie-jinja Shrine which was one of the Japan's three biggest festivals on last June 11.
Hie-jinja Shrine was old and was called Edo Sanno University honorific title of a Japanese god and, in Sanno Corporation where (1590), Prince Ieyasu Tokugawa were local deities of Edo-jo Castle than Edo-jo Castle entry into a fortress (Hie-jinja Shrine), seemed to be done veneration as genius locus God of the family to inherit the shogunate as a company of the eastern capital first through Edo 300 years for Tensho era 18 years.
If an eastern capital was first-rate as for the scale as a festival of God, as for the Sanno festival that was a big festival of June 15, general Ieyasu was named and was called one of the Japan's three biggest festival with the Gion festival of Kyoto, Tenjin festival of Osaka and seemed to be said to be "the order festival" because I expended an expense to be concerned with the festival from the Shogunate.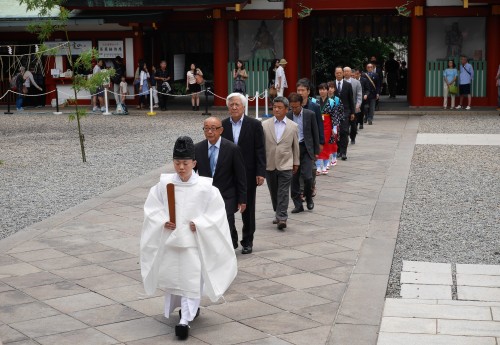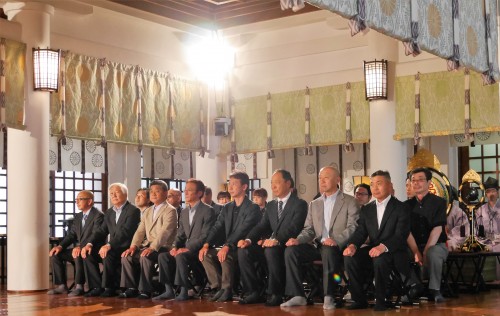 here is "a festival to dedicate one of the Sayama new tea of the Shinto Shrine precincts at the same level as a tea plantation, and to tell God" about as "celebration God turnout event" of the inside.
A large hand-drum is rung at 11:00, and gagaku is played for a signal, and a chief priest is accompanied by a large number of Shinto priesthood from the front, and a sitting does this at entrance, the left seat.
A person concerned with association of we tea business takes seat successively.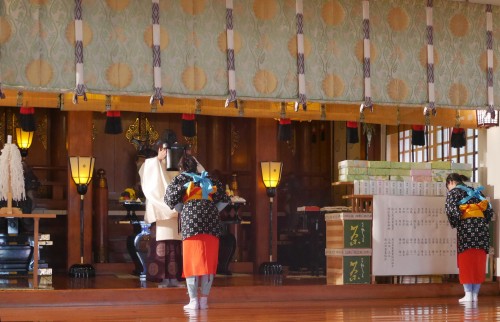 advance when I put up great purification, a congratulatory address, the dedication of the dance, a sprig of a sacred tree.
I receive the Sayama new tea which a tea daughter put in Mikata to Shinto priesthood, and the Shinto ritual to offer it before the alter is carried out.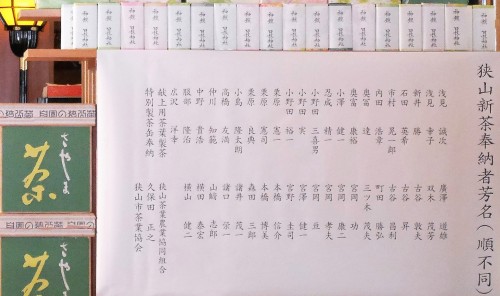 dedicate the new tea which a member of association of we Sayama-shi tea business puts great deal of effort and made.
The word "true vocation was used by tea business" by the congratulatory address and told God about the thanks to living while working, and being engaged called Sayama tea raised by a tradition and culture.
The image borrowed the thing of the Sayama tea business promotion cooperation meeting.